Motorola has partnered with Flipkart to introduce the Envision X smart TVs in the Indian market, providing customers with advanced features and a convenient shopping experience. These televisions have been specifically designed to cater to the needs and preferences of the Indian audience. Let's delve into the impressive features, pricing, and other important details of the Envision X TV lineup.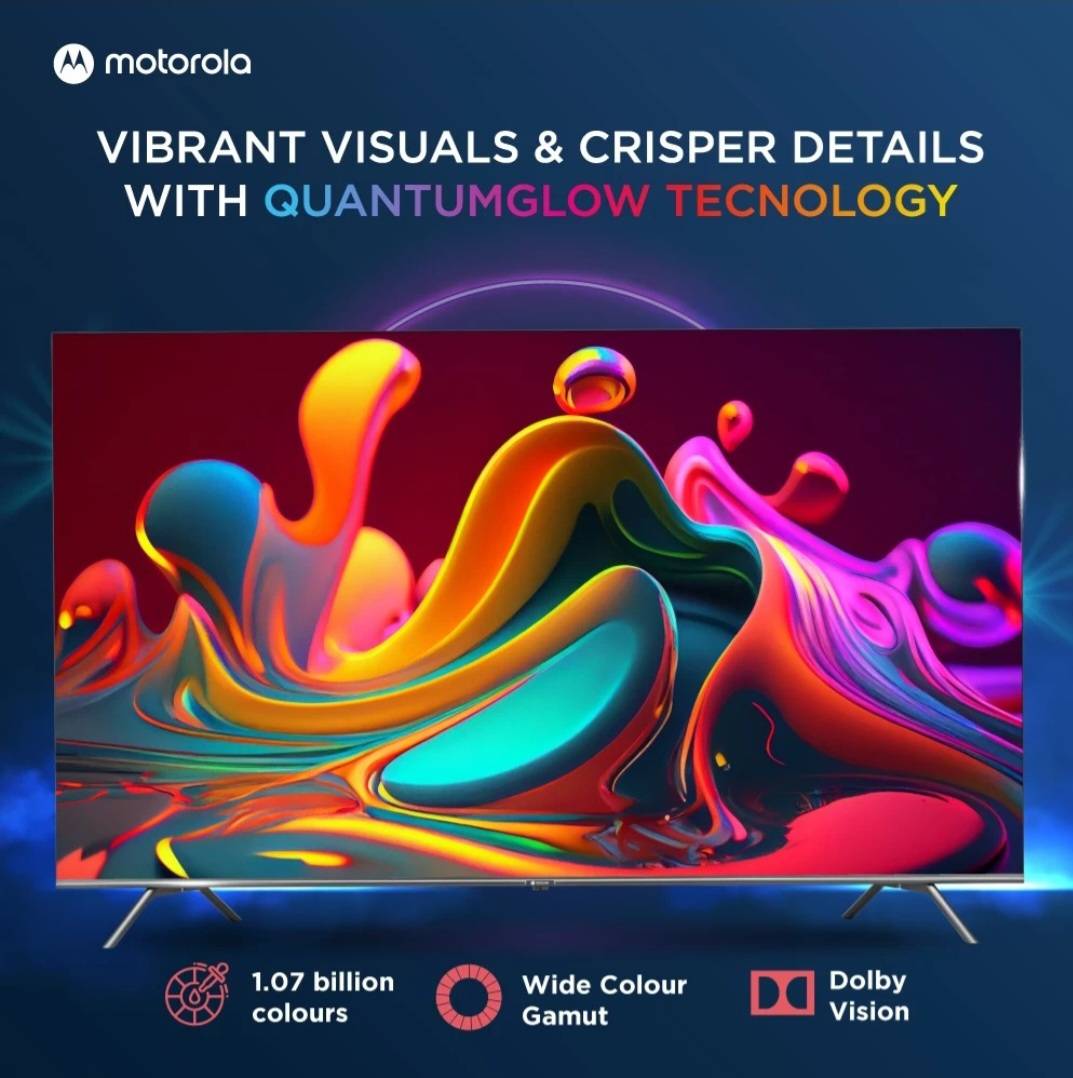 Stunning Visuals with QuantumGlow Technology
The Envision X smart TVs from Motorola come with a bezel-less design and are available in two screen sizes: 55 inches and 65 inches. The highlight of these TVs is their 4K QLED display, which utilizes QuantumGlow technology to deliver vibrant and lifelike colors. With the ability to reproduce 1.07 billion colors, the Envision X TVs provide a visually stunning experience.
The Dolby Vision support in these TVs enhances the brightness level to 350 nits, offering a captivating visual experience. With a refresh rate of 60Hz and a wide color gamut, the Envision X TVs ensure smooth and vibrant visuals. The wide viewing angle of 178 degrees and backlight dimming technology further enhance the picture quality, providing an immersive viewing experience.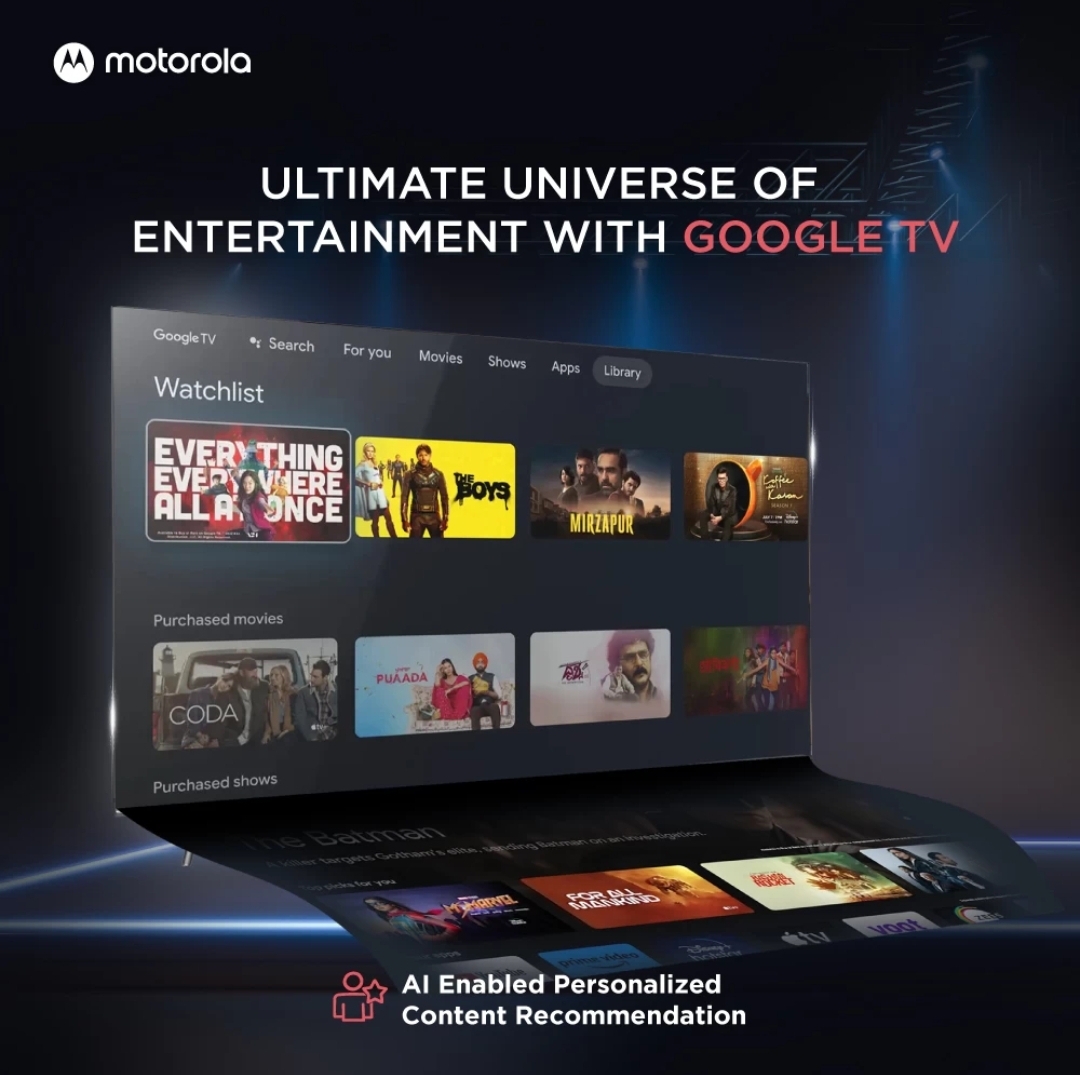 Powerful Performance and Seamless Connectivity
The Envision X TVs are powered by a quad-core MediaTek processor and an integrated GPU, accompanied by 2GB of RAM. This ensures smooth performance and seamless multitasking capabilities. In terms of connectivity, these smart TVs offer 3 HDMI ports, 2 USB ports, mini AV, RF, Optical, dual-band Wi-Fi, and Bluetooth, enabling users to connect their favorite devices and accessories effortlessly.
Immersive Audio with Dolby Atmos
The Envision X TVs from Motorola come equipped with dual 20W speakers that support Dolby Atmos and 3D surround sound. The AI-powered audio and video optimizations further enhance the audio experience, making every sound detail crisp and clear. Users can choose from 6 picture modes and 4 sound modes, customized to suit the content being played.
Google TV Integration and Smart Features
The Envision X series of Motorola TVs run on Google TV, offering a wide range of apps and games such as Netflix, Amazon Prime Video, and Disney+ Hotstar. These smart TVs utilize AI to provide personalized content recommendations based on the user's preferences and viewing history. With screen mirroring capabilities and easy access to Google Assistant, users can enjoy a seamless and connected experience. The Envision X TVs also come with a smart remote control for enhanced control and navigation.
Pricing and Availability
The Motorola Envision X series is available for purchase exclusively on Flipkart. The 55-inch model is priced at Rs 30,999, while the 65-inch model is priced at Rs 39,999. As part of a special launch offer, customers can avail discounts of up to Rs 5,000 on the 55-inch model and up to Rs 10,000 on the 65-inch model. With these attractive prices and advanced features, the Envision X TVs offer a compelling choice for Indian consumers looking to upgrade their television sets.
Motorola Envision X smart TVs in collaboration with Flipkart bring a range of advanced features and seamless integration with Google TV to cater to the Indian audience. With their stunning 4K QLED display, Dolby Atmos support, and AI-powered optimizations, these TVs deliver an immersive and advanced viewing experience.
The Envision X series is now available for purchase, offering attractive pricing options and a smart remote control for enhanced convenience.